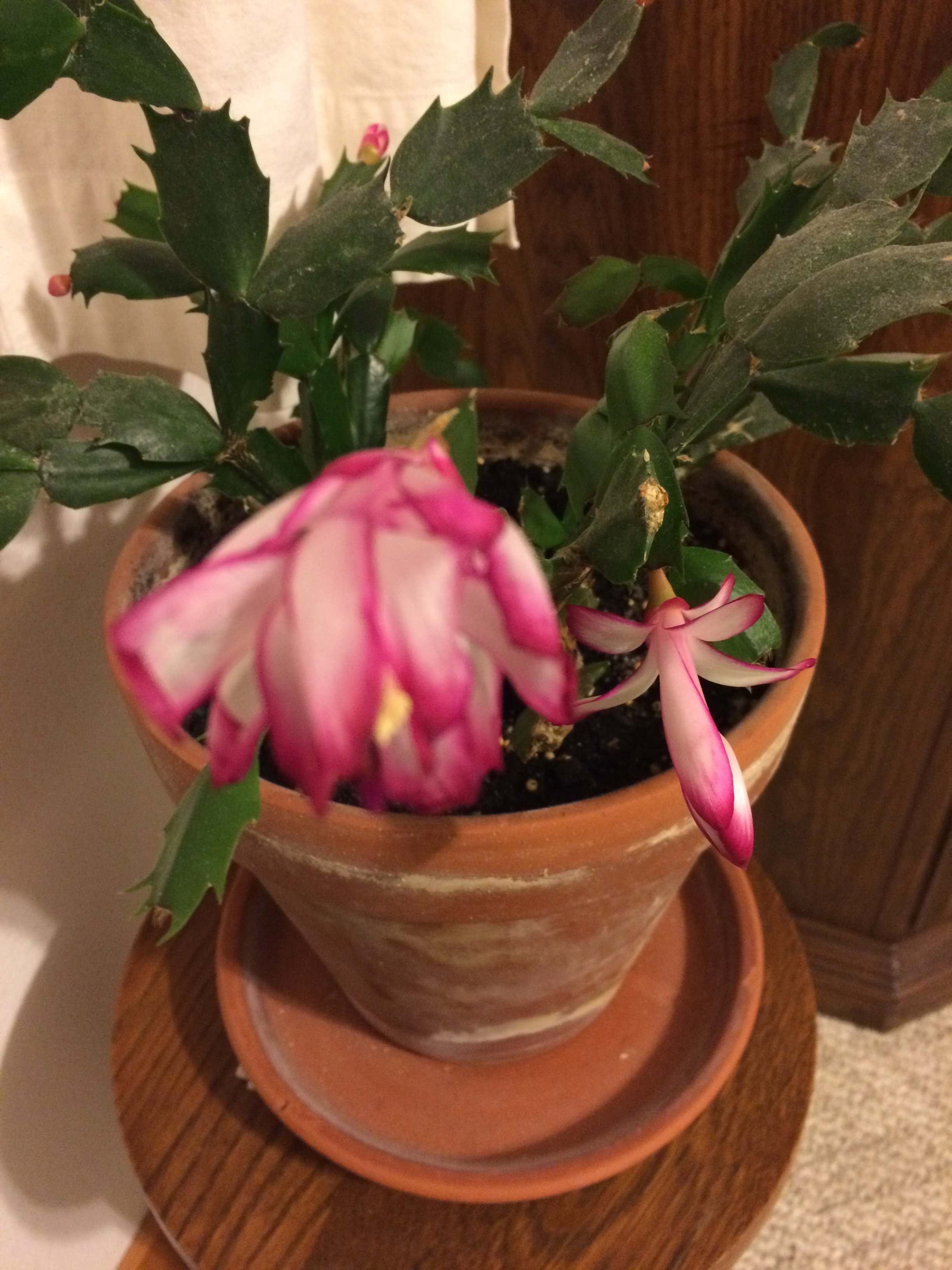 A Christmas Cactus is a unique, mysterious yet glorious plant. We've had one for over 40 years. For most of the year it's not much to look at. But as Christmas and Easter approach it springs into full bloom. I don't understand how it is so regular (especially since Easter varies form year to year); I just know it is. I can count on it blooming. And every time it does I am reminded of several truths.
I am, for example, reminded that our cactus is very much like many people – they show up for worship only at Christmas and Easter. Their faith blossoms twice a year. But that's a subject, perhaps, for another time.
I am, more significantly, reminded that life is only in full bloom through Jesus. Life blossomed fully (Christmas) when Jesus became flesh and dwelt among us, full of grace and truth. He came that we might have life and have it abundantly, to the full. Life blossomed fully (Easter) when Jesus rose form the dead so we could dwell with Him. Jesus came down not only to be with us but to lift us up. The blooming of our cactus is, for me a stark reminder that only Jesus can provide fullness of life.
Then, too, I remember that the cactus blooms every year, on time, no matter what. Trust me – it has survived most everything. Our plant came from my parents who got it from my grandparents. Grandma used to keep it upstairs, in the dark and in cooler temperatures, where it seldom got watered. Still it bloomed. The original plant has been spliced and divided among children and grandchildren. All the shoots bloom. Our original spliced plant has been divided often – even knocked over and broken by boys, being boys, playing soccer in the house. Still it blooms. We've had other cactus and plants, which we've treated and cared for more carefully – they've died. But not the Christmas Cactus. So every time it blooms – on time – I'm reminded that God is likewise faithful. He always comes on time – never too soon or too late. No matter how tough the day or how difficult life might be at the moment, God comes right on time.
The apostle Paul grasped this well. "But when the right time came, God sent his Son, born of a woman, subject to the law. God sent him to buy freedom for us who were slaves to the law, so that he could adopt us as his very own children. And because we are his children, God has sent the Spirit of his Son into our hearts, prompting us to call out, "Abba, Father." Now you are no longer a slave but God's own child. And since you are his child, God has made you his heir." (Galatians 4:4-7 NLT) "When we were utterly helpless, Christ came at just the right time and died for us sinners. Now, most people would not be willing to die for an upright person, though someone might perhaps be willing to die for a person who is especially good. But God showed his great love for us by sending Christ to die for us while we were still sinners." (Romans 5:6-8 NLT) Could it be God created the Christmas Cactus to remind us of His faithfulness?
Helen Steiner Rice poignantly captures the spirit of our Christmas Cactus in what has become one of my favorite poems. May it give you encouragement and hope.
"What More Can You Ask"
God's love endureth forever –
What a wonderful thing to know
When the tides of life run against you
And your spirit is downcast and low…
God's kindness is ever around you,
Always ready to freely impart
Strength to your faltering spirit,
Cheer to your lonely heart…
God's presence is ever beside you,
As near as the reach of your hand,
You have but to tell Him your troubles,
There is nothing He won't understand…
And knowing God's love is unfailing,
His mercy unending and great,
You have but to trust in His promise –
"God comes not too soon or too late".
So wait with a heart that is patient
For the goodness of God to prevail –
For never do prayers go unanswered,
And his mercy and love never fail.