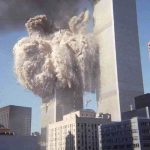 As I recalled 9/11 this past week, I went back to see what I preached the following Sunday. What I found was that at least some lessons of that message are important for our current time as well. So I'm sharing them, slightly edited, with you today.
LESSON 1: GOD'S SOVEREIGNTY. Our world is filled with evil and tragedy but God still rules the world. He is sovereign. Psalm 46 states,  "God is our refuge and strength, an ever-present help in trouble. Therefore we will not fear, though the earth give way and the mountains fall into the heart of the sea, though its waters roar and foam and the mountains quake with their surging…(and I would add though the towers fall, though COVID strikes )… Nations are in uproar, kingdoms fall; he lifts his voice, the earth melts." Revelation pictures Jesus Christ, who said "In this world you will have trouble. But take heart! I have overcome the world", sitting on the throne ruling the world. Martin Luther penned, "Did we in our own strength confide, our striving would be losing, were not the right man on our side, the man of God's own choosing. Dost ask who that may be? Christ Jesus, it is he; Lord Sabaoth his name, from age to age the same, and he must win the battle." Remember, God is sovereign.
LESSON 2: OUR SECURITY. Our American sense of safety and security has been shattered. We are experiencing fear – a fear that has previously been unknown to most of us. We wonder, "If this could happen, what's next?" When the tower fell, when COVID hit, our smugness and invincibility fell as well.
But, thank God, we are safe. "The LORD is my light and my salvation– whom shall I fear? The LORD is the stronghold of my life– of whom shall I be afraid? When evil men advance against me to devour my flesh, when my enemies and my foes attack me, they will stumble and fall. Though an army besiege me, my heart will not fear; though war break out against me, even then will I be confident… For in the day of trouble he will keep me safe in his dwelling; he will hide me in the shelter of his tabernacle and set me high upon a rock… Wait for the LORD; be strong and take heart and wait for the LORD" (Psalm 27). "The name of the Lord is a strong tower; the righteous run to it and are safe" (Proverbs 18:10). This invincible tower is not one we run from in fear but towards in faith. Its name is Jesus. America's tower may have fallen but at the resurrection and ascension of Jesus another, greater one rose up. "No one can snatch them from my hand." Or as Paul put it, "Who shall separate us from the love of Christ? Shall trouble or hardship or persecution or famine or nakedness or danger or sword? … No, in all these things we are more than conquerors through him who loved us. For I am convinced that neither death nor life, neither angels nor demons, neither the present nor the future, nor any powers, neither height nor depth, nor anything else in all creation, will be able to separate us from the love of God that is in Christ Jesus our Lord" (Romans 8:35-39, underlining mine). We are safe in Christ.
LESSON 3: OUR STRENGTH. In times like this we feel powerless. After all, the USA is THE power of the world. We are invincible. No one would dare come after us. Nothing can destroy us. We have raised a generation that believes it can do anything and will always succeed. And we love to feel the strength this feeling of power brings. But then the tower fell (COVID struck).  And we realize just how impotent we are. We are not in control. We do not call all the shots.
But we can pray. "…if my people, who are called by my name, will humble themselves and pray and seek my face and turn from their wicked ways, then will I hear from heaven and will forgive their sin and will heal their land. Now my eyes will be open and my ears attentive to the prayers offered in this place." Surely we have been humbled; now it's time to pray – for victims, leaders, rescue workers, families, friends, co-workers, other nations, for Christ's Church. James wrote (4:6-7): "God opposes the proud but gives grace to the humble. Submit yourselves, then, to God. Resist the devil and he will flee from you. Come near to God and he will come near to you." Jesus said, "My Father will give you whatever you ask in my name." There is no greater power. Our strength derives from prayer.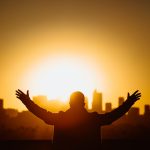 May the words of my mouth and the meditations of all our hearts be pleasing to you, O Lord, my rock and my redeemer (Psalm 19:14).