On this Memorial Weekend I once again have memories of one particular Memorial Day. I played the Bass Drum in our Junior High School band. The highlight of the year was marching in Kalamazoo's Memorial Day parade.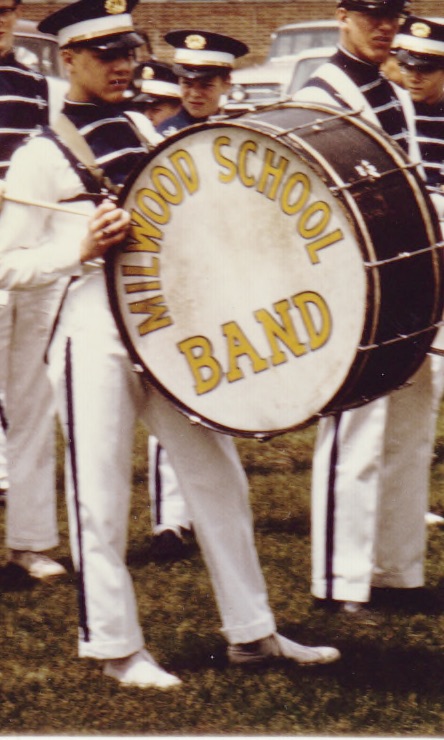 On this particular Memorial Day I had a problem. While marching, the strap that held the drum on my shoulders was slowly slipping loose; if not corrected, the drum would fall. Complicating the problem was that, unlike all the other instruments, the percussion section never stops playing; it has to provide the cadence to keep everyone in step. So I had no opportunity to stop and try to fix the strap. And since I was standing on the edge of the row I had no one on my right side and a snare drummer on my left. So there was no help beside me.
At first I chuckled thinking, "You've got to be kidding me!" But the humor didn't last long. I kept drumming but also kept trying to adjust the strap in between beats, which was no small task. It was proving to be a losing battle. I began to have visions of the drum falling, with me tripping over it as it fell, and the whole band falling apart because the cadence stopped and everyone lost the beat and thus their synchronized steps. I had to struggle to maintain the beat while becoming lost in my thoughts. I had no idea what to do. I was close to panic.
But there was one glimmer of hope. Our director always marched with the band, and would do so from various positions – sometimes moving to the edge of each row so he could check up on everyone.; but I had no way of getting his attention. Then, after what seemed like an eternity, he came to the edge of my row, on my side of the row! There he was – right next to me! He was able to fix the strap without me missing a beat. I was so glad he let himself be found!

As I now fondly recall that day, my mind goes to Psalm 46:1 – "God is our refuge and strength, an ever-present help in trouble." I once read that "…an ever-present help in trouble" could be translated "God lets himself be found in trouble." I like that thought. "When you're lost, He is found." I think of when I play 'Hide and Seek ' with my grandchildren – I often hide only partially so I can be found. Or I'll be fully hidden for a short time until I sense they're getting frustrated, and then come partially out of hiding. I'll let myself be found.
That's so much like God. When we're lost, when we're about to lose our step, when the drumbeat of our life is about to get out of sync, when the straps that hold the source of our life in place are about to come undone – God lets Himself be found. "When you're lost, He is found." When tragedy strikes, when life becomes overwhelmingly challenging, and we wonder where God is – when we wonder where He's hiding, God lets Himself be found. "When you're lost, He is found." When we've totally lost our way, or suddenly realize we've wandered off to other pastures and wonder how we'll ever find our way back, then it is we need to remember "When you're lost, He is found." God lets Himself be found.
The truth is, God is never far away. He may, at times, remain out of our sight because He wants to develop our faith and increase our trust. But before the drum falls, before we trip and fall, before everyone and everything around us falls apart, God will come out of hiding. "When you're lost, He is found." God is our refuge and strength, an ever-present help in trouble. Therefore we will not fear, though the earth give way and the mountains fall into the heart of the sea, though its waters roar and foam and the mountains quake with their surging…The Lord Almighty is with us."
"When you're lost, He is found."