I was pouring from a pitcher into my drinking glass and wasn't paying attention – and before I knew it the overflow was on the countertop. So I grabbed a 'quick picker upper' and wiped it up. I then gave myself the usual brow beating for being so careless.
Yet once again I was struck by the amazing way God works. At that time I had been preparing messages on the blessings of giving and had been making presentations for our church stewardship campaign. My personal focus was on Malachi 3 and 2 Corinthians 9, which both deal with abundance and overflow of blessings. I thought of the two key passages.
Malachi 3:8-12 (New Living Translation)
"Should people cheat God? Yet you have cheated me!
"But you ask, 'What do you mean? When did we ever cheat you?'
"You have cheated me of the tithes and offerings due to me. 9 You are under a curse, for your whole nation has been cheating me.10 Bring all the tithes into the storehouse so there will be enough food in my Temple. If you do," says the Lord of Heaven's Armies, "I will open the windows of heaven for you. I will pour out a blessing so great you won't have enough room to take it in! Try it! Put me to the test! 11 Your crops will be abundant, for I will guard them from insects and disease. Your grapes will not fall from the vine before they are ripe," says the Lord of Heaven's Armies. 12 "Then all nations will call you blessed, for your land will be such a delight," says the Lord of Heaven's Armies.
2 Corinthians 9:6-12
Remember this: Whoever sows sparingly will also reap sparingly, and whoever sows generously will also reap generously.7 Each of you should give what you have decided in your heart to give, not reluctantly or under compulsion, for God loves a cheerful giver.8 And God is able to bless you abundantly, so that in all things at all times, having all that you need, you will abound in every good work. 9 As it is written:"They have freely scattered their gifts to the poor; their righteousness endures forever."
10 Now he who supplies seed to the sower and bread for food will also supply and increase your store of seed and will enlarge the harvest of your righteousness.11 You will be enriched in every way so that you can be generous on every occasion, and through us your generosity will result in thanksgiving to God.
12 This service that you perform is not only supplying the needs of the Lord's people but is also overflowing in many expressions of thanks to God.
My brow beating stopped – I realized that rather than berate myself I should have stopped and offered a prayer of thanksgiving. After all, I had enough supply of drink, more than I needed; I had an excess. I was reminded of the many times God's rich abundance has overflowed in my life. My lesson for the day was "When you need paper towels, thank God for the overflow."
With a different analogy another of my facvorite poems, this one by Jimmy Dean, states it poignantly.
I've never made a fortune
And I'll never make one now,
But it really doesn't matter
Cause I'm happy anyhow.
As I go along my journey
I'm reaping better than I sow.
I'm drinking from the saucer
Cause my cup has overflowed.
I don't have a lot of riches
And sometimes the going's tough,
But when I've got my kids to love me
I think I'm rich enough.
I'll just thank God for the blessings
That his mercy has bestowed,
I'm drinking from the saucer
Cause my cup has overflowed.
If you give me strength and courage
When the way grows steep and rough
I'll not ask for other blessings,
I'm already blessed enough.
May I never be too busy
To help another with his load,
Then I'll be drinking from the saucer
Cause my cup has overflowed.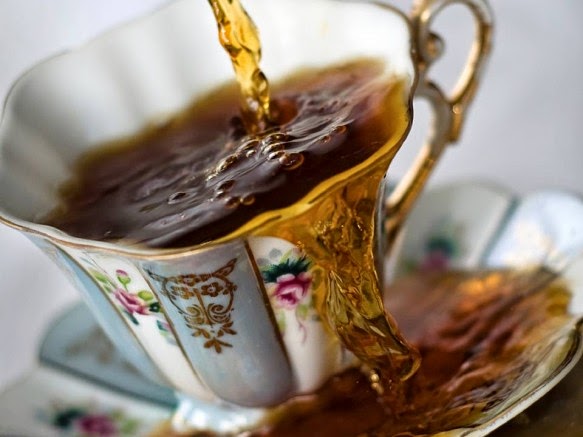 From what are you drinking?
Picture from: https://www.google.com/imgres?imgurl=http%3A%2F%2F4.bp.blogspot.com%2F-h9QaKEXloug%2FVMaX3j7hkoI%2FAAAAAAAAAsA%2FP8bljavJ5gw%2Fs1600%2FDrinking%252Bfrom%252Bmy%252Bsaucer.jpg&imgrefurl=http%3A%2F%2Fleonachoy.blogspot.com%2F2015%2F01%2Fdrinking-from-my-saucer.html&docid=Z15xYstXjiFSSM&tbnid=u8-St3C2O8RjCM%3A&vet=10ahUKEwj4yJHFp67dAhUh1oMKHRZlCDgQMwhKKBAwEA..i&w=583&h=437&bih=738&biw=1160&q=drinking%20from%20a%20saucer&ved=0ahUKEwj4yJHFp67dAhUh1oMKHRZlCDgQMwhKKBAwEA&iact=mrc&uact=8