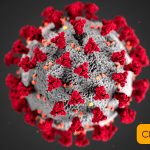 This is a time for faith and not fear.  To be honest I know the virus is real and will most likely eventually come to someone we know, perhaps even to you or me. But I am far more concerned with the loss of reason and the wave of fear and hysteria that threatens the fabric of our society than I am with the virus. I am concerned what our children and grand-children are learning about how to respond to difficult times and circumstances. So let this be an opportunity to focus on faith.
Focus on our faithful God who watches over our lives and our coming and going now and forevermore (Ps. 121).
Focus on the fact the Bible teaches us to be of use today. 'Look here, you who say, "Today or tomorrow we are going to a certain town and will stay there a year. We will do business there and make a profit." How do you know what your life will be like tomorrow? Your life is like the morning fog—it's here a little while, then it's gone. What you ought to say is, "If the Lord wants us to, we will live and do this or that." Otherwise you are boasting about your own pretentious plans, and all such boasting is evil." Remember, it is sin to know what you ought to do and then not do it" (James 4:13-17).
Focus on what  the Heidelberg Catechism profoundly states:
26 Q. What do you believe when you say: "I believe in God the Father, Almighty, maker   of heaven and earth?"
That the eternal Father of our Lord Jesus Christ, who out of nothing created heaven and earth and everything in them, who still upholds and rules them by his eternal           counsel and providence, is my God and Father because of Christ his Son.  I trust him so much that I do not doubt he will provide whatever I need for body and soul, and he will            turn to my good whatever adversity he sends me in this sad world.  He is able to do this    because he is almighty God; he desires to do this because he is a faithful Father.
            27 Q. What do you understand by the providence of God?
Providence is the almighty and ever present power of God by which he upholds, as    with his hand, heaven and earth and all creatures, and so rules them that leaf and blade,     rain and drought, fruitful and lean years, food and drink, health and sickness, prosperity   and poverty – all things, in fact, come to us not by chance but from his fatherly hand.
            28 Q. How does the knowledge of God's creation and providence help us?
We can be patient when things go against us, thankful when things go well, and for the future we can have good confidence in our faithful God and Father that nothing will       separate us from his love.  All creatures are so completely in his hand that without his will they can neither move nor be moved.
Focus on Numbers 16:46-48: "Then Moses said to Aaron, "Take your censer and put incense in it, along with burning coals from the altar, and hurry to the assembly to make atonement for them. Wrath has come out from the Lord; the plague has started." So Aaron did as Moses said, and ran into the midst of the assembly. The plague had already started among the people, but Aaron offered the incense and made atonement for them. He stood between the living and the dead, and the plague stopped."

I am not implying

that COVID-19 is a God-sent plague. I am saying intercessors are needed. Let's all stand in the great gap and pray unceasingly.
Here is a message I delivered on Sunday, March 15 to those gathered for worship @ Kibbie Christian Reformed Church here in South Haven. My prayer is that it will bless and strengthen you during these unusual days.